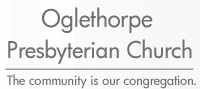 Worship Schedule
Sunday Schedule
9:45am
Sunday School for all ages
11:00am Worship
Fellowship Follows

Upcoming Events
to Oglethorpe Presbyterian Church
a congregation of the Presbyterian Church (U.S.A.)

This word, "welcome" has come to mean a great deal to us. We are a warm, welcoming community of Christians, worshiping and serving together.

As God meets us wherever we are in our journeys, so we also welcome those who come into our lives.

At the same time, the calling of our faith nudges us. It takes us from where we are on our journeys, helps us catch our breath, and moves us on down the road. It challenges us, because we know we don't have all the answers.

As you find us now, we are in the midst of wonderful growth - growth in numbers, yes, but more importantly, growth in the depth of our spirits and in the breadth of our joy. We invite you to grow with us.

So we welcome you to Oglethorpe Presbyterian Church. And we hope that you will be welcomed as well as challenged as we grow together in Christ.
Click here to read OPC's Vision and Mission Statement.
| | |
| --- | --- |
| | |
| | |
| | |
| | |
| | |
| | |
| | |
| | |
| | |
| | |
| | |
| | |
| | |